March 26–27 | Houston Symphony at Jones Hall, TX
"Concerto for Horn and Orchestra" to be Performed at "Andrés Fest: A Symphonic Celebration"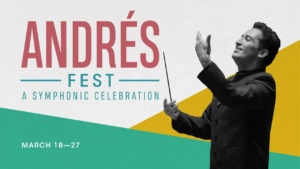 On March 26th and 27th, 2022, Bruce Broughton's Concerto for Horn and Orchestra will be performed as a concert highlight for the Houston Orchestra's two-week "Andrés Fest: A Symphonic Celebration" paying tribute to Music Director Andrés Orozco-Estrada, who will be stepping down at the end of the 2021–22 season.
The three-movement concerto, which was commissioned by the orchestra and composed specifically for the soloist, Principal Horn William VerMeulen, is lyrical, virtuosic and intentionally non-dystopian to counter the present day overtones of anxiety, dread and uncertainty.
Tickets are still available for purchase at the Houston Symphony website.
Horn soloist William VerMeulen talks about Broughton's new concerto and its impact on present-day orchestras: