Respected composer and violinist spouse-team revive stylish Hollywood tradition of home concerts
By Jon Burlingame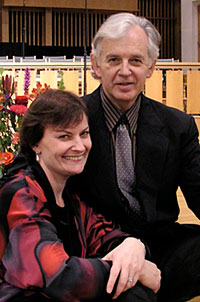 All too often nowadays, we listen to recorded music – on our CD players at home or in the car, on our iPods and from our computers. We tend to forget what an enriching experience it can be to hear talented musicians playing great music live.
Bruce and Belinda Broughton launched a series of intimate chamber-music concerts Saturday night, Dec. 2, at their Bel-Air home, and their first outing can only be deemed an unqualified success. Twenty invited guests mingled, chatted, had dinner and enjoyed an hour of music for violin, cello and piano.
Belinda Broughton – one of Los Angeles' and London's finest violinists – also happens to be a world-class chef. Her kitchen (with an entire wall library of more than 1,000 cookbooks, all of them read and used) was the first stop for guests, who enjoyed wine and hors d'oeuvres while meeting new friends or catching up with old ones.
Dinner followed, with everyone finding a nook or corner to eat and chat over the most delicious meal; happily the warm Santa Ana winds made dining outside just as comfortable as inside.
At 8 p.m., the concert began in a music room that once served as a screening room for actress Maureen O'Sullivan and her director husband John Farrow, long-ago owners of the house. Belinda was joined by her husband Bruce Broughton for the West Coast premiere of "Gold Rush Songs": three 19th-century American folk tunes ("Joe Bowers," "Betsy From Pike" and "Golden Slippers") arranged by Broughton for violin and piano.
The piece began as source music in his score for The Ballad of Lucy Whipple, a 2001 television film about a New England family heading West to the California gold fields. (Jeremy Kagan, the film's director, was among those in attendance.)
Belinda was as much "fiddler" as traditional violinist in the lively opening, gorgeous second movement and hoedown-style finale, and her pianist husband – so well known as a composer, with Oscar and Grammy nominations, multiple Emmys and frequent concert commissions – executed the complex variations with ease.
Cellist Andrew Shulman joined Bruce for the next piece, Robert Schumann's "Fantasiestuck," op. 73. Their sensitive reading of the second movement was gently disturbed by the Broughtons' dog Josie meandering through the room with jingling collar; it didn't stop the proceedings but rather put a smile on everyone's face. Shulman's impassioned performance in the final movement was galvanizing.
After a break, all three musicians returned to perform Mendelssohn's "Trio in D Minor," op. 49. They played with gusto, from the dynamic first movement through the warm andante, a lightning-fast scherzo and rhythmic, expansive finale. The musicianship on display was extraordinary and the trio rose to a long and heartfelt ovation.
Everyone stayed for hours afterward, a sure sign of a successful evening. The Broughtons say they are planning subsequent evenings, called the Bel Air House Concerts, that will include not just chamber music, but jazz and vocal performances too.
©2006 Jon Burlingame