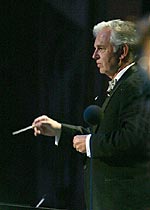 Los Angeles – July 9, 2004 – Bruce Broughton conducted the Hollywood Bowl Orchestra playing a symphonic suite version of his theme from JAG. This evening marked Mr. Broughton's debut at the Hollywood Bowl.
"Television Night at the Bowl II" was a sequel to the 2000 benefit. It highlighted the work of TV's great composers and songwriters. Proceeds from the program will benefit the Television Academy Foundation, which sponsors educational programs and the archiving of American Television.
The Hollywood Bowl Orchestra presented a musical tribute to Earle Hagan and Steve Allen. The evening also included themes by Jerry Goldsmith, The Simpsons, Curb Your Enthusiasm, Battlestar Galactica with Fireworks, and many more.
Emmy Award winner Steve Binder was Executive Producer and Joe Mantegna hosted the evening.