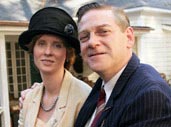 Los Angeles, California – September 11, 2005 –Bruce Broughton has won an Emmy Award for Warm Springs in the category of Outstanding Composition for a Miniseries, Movie or Special. With 22 nominations, this is his tenth Emmy.
Warm Springs is the emotional and inspiring drama of Franklin Delano Roosevelt's life shortly after he was diagnosed with polio in the early 1920s (the film won an Emmy for Best Made for TV Movie). Bruce Broughton's score flawlessly and gently enhances the emotional fabric of this film in which the great historical figure must cope with a crippling disease.
Bruce Broughton made history in 2003 when he became the first composer to win eight Emmys (Eloise at the Plaza). "The most- honored composer of original music," as he was referred to by film music historian Jon Burlingame, continued his legacy by winning his ninth (Eloise at Christmastime) and tenth Emmy for Warm Springs.