A New Release of a 1992 Disney Favorite—with a Little Something Extra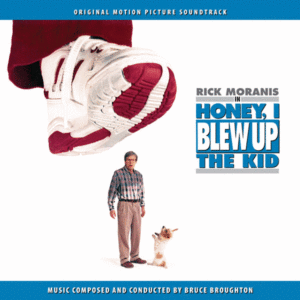 A 1992 Disney favorite, "Honey, I Blew Up the Kid" just got expanded and revisited with several previously unreleased cues, additional shorter bits, an alternate version of the end credits, and… wait for it… the premiere release of the original score for the 1992 cartoon short, "Off His Rockers," that debuted in front of main feature. Enjoy Broughton's trademark Americana style as a wooden rocking horse becomes the focus of a young boy's imagination that gallops off into a Western adventure.
This limited-edition Intrada CD is presented courtesy of Disney from two-track digital scoring session mixes composed and conducted by Bruce Broughton. Please visit the Intrada website for more information, to listen to select tracks, and to purchase.