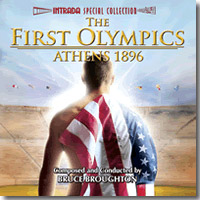 Bruce Broughton's Emmy Award-winning score for the 5-hour TV miniseries chronicling the origin of the modern Olympics has been made available for the first time thanks to Intrada Records.
This spectacular 2-CD set features the full score on CD 1 and a plethora of bonus tracks on CD 2 that include original source music, marches, bugle calls, a string trio, and a special "producer's demo" with unique mixes of seven cues made from the 24-track elements.
A true master of fanfares and sweeping themes, Broughton creates a memorable and dramatic backdrop for the acclaimed miniseries starring David Ogden Stiers and David Caruso. Both CDs are presented in dynamic stereo from the original Sony Pictures masters of Bruce Broughton conducting the Sinfonia of London.
For more information, to hear audio samples from the CD, or to purchase, please visit the Intrada website. This release is limited to 2000 copies!