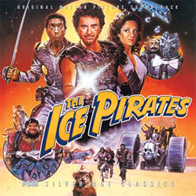 Somewhere between Star Wars and Spaceballs there's The Ice Pirates, a satirical sci-fi adventure/love story with a cast as quirky as it is stellar—Anjelica Houston shares costar credit with Bruce Vilanch!
And Bruce Broughton's score adroitly accompanies this wild ride with pumped-up '80s rock percussion and keyboard, a hauntingly melodic electronic love theme, and compelling action sequences with brass and woodwinds. It's a tour-de-force on a limited budget—and now it's a limited release: only 3,000 copies available.
Produced by Douglass Fake of Intrada from the composer's personal elements (the studio masters have long-since vanished), the complete chronological score is presented in stereo sound, and includes in the liner notes new comments by Bruce Broughton.
For more details, to hear audio samples from the CD, or to purchase, please visit the Screen Archives website.