Oakland, CA – June 30, 2005 – INTRADA Announces: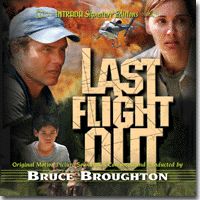 LAST FLIGHT OUT
Composed and Conducted by Bruce Broughton
Intrada Signature Edition ISE1005
Stationed in the remote Colombian village of Alto Risco, medical missionary Ann Williams and her family are running out of time. News reports say guerilla fighters and drug runners are terrorizing villagers and enslaving workers. Ann's father asks for help from an old friend—Dan Hogan, a washed-up pilot and Ann's ex-boyfriend. Will his sketchy rescue mission succeed?
Join Bruce Broughton on this rescue mission where authentic pan pipes and guitar crisscross with a bed of strings and percussion to create a sweeping and flavorful score. Broughton balances rich melody with pulsating action for an evocative listening experience! The action adventure from Billy Graham's film production company was directed by Richard Jameson and stars Richard Tyson, Bobbie Phillips and Cliff De Young.
This volume is limited to 1000 copies.
LAST FLIGHT OUT
INTRADA Signature Edition ISE1005
Available June 2005
For cover art, track listing, and sound samples, please visit http://shopping.netsuite.com.