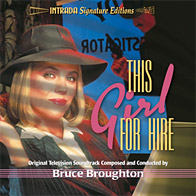 Intrada's latest Signature Edition release features Bruce Broughton's score to the 1983 TV-movie This Girl for Hire. Boasting an all star supporting cast, including Jose Ferrer, Celeste Holm, Scott Brady, Howard Duff, Roddy McDowall, and Bess Armstrong in the lead, the film spoofed the 1940s film noir private eye genre. Two elements of the film became the focus for Broughton's score – the 1940s atmosphere of the story and the sexy, seductive appearance of the main character (although the character in the movie was a bit klutzy, Broughton chose to play her musically straight). "The main theme was composed in a harmonically rich melodic style, the sort associated with film themes from the 40s," comments Broughton. "The score itself was performed by a uniquely specific combination of musicians. The right instrumental combination is often the path to the right dramatic score. The overall sound of the orchestra is feminine, sophisticated, colorful, and energetic." But it's not all smoky, 40s detective noir, for it has its share of suspense and action music, in the familiar style that makes Bruce Broughton a composer everyone cherishes.
This small gem from Bruce Broughton's wealthy body of work comes courtesy of MGM, from the 1/4″ stereo mixes in the composer's own collection, preserved in perfect sound. This release is limited to 1000 copies.
INTRADA Signature Editions ISE 1020
Composed and Conducted by BRUCE BROUGHTON
IN STOCK NOW
For more details, to hear audio samples from the CD, or to purchase, please visit the Intrada website.