This Broughton Favorite Seamlessly Melds Score and Song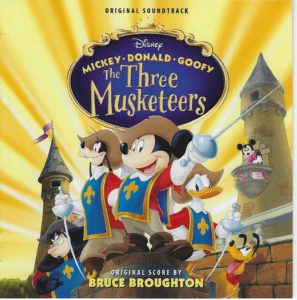 For the latest release from the rich catalog at Disney, Intrada presents the premiere of Bruce Broughton's score from the 2004 animated adventure, "Mickey, Donald, Goofy—The Three Musketeers." While a song album was initially released, the rollicking score had not been included. Now, some 14 years later, Intrada has enhanced the presentation to include both the songs and Broughton's extensive score, which happens to be one of Broughton's personal favorites.
This new album retains the cohesiveness of the original score, in which the score flowed smoothly into the songs for a musically cohesive whole, rather than being presented with separate score and song sections. The score itself recalls an earlier time of swashbucklers, with the likes of "Adventures of Robin Hood" and "The Sea Hawk" embedded in the score's heroics. As Broughton points out in his liner notes, in order to fit the songs into the fabric of the score, their arrangement required meticulous attention. This premiere release presents the score and songs as originally intended by the composer.
For more information, to listen to select tracks, and to purchase, please visit the Intrada website. This is a limited-edition release.