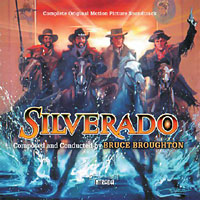 Oakland, CA – December 13, 2005 – Bruce Broughton's complete Academy Award nominated score for Laurence Kasdan's western Silverado (1985), starring Kevin Costner and Kevin Kline, is being released in a special 2-CD edition by Intrada Records.
In this famous score, which earned the composer an academy award nomination, Broughton relied upon a full symphony orchestra, rather than the customary western ensembles, to give the score its resonating power and drive. The main theme has become a popular favorite and is often played at sporting events throughout the world.
Intrada is presenting the entire score from the original 24-track masters, recently re-mixed on the Newman Scoring Stage by engineer Armin Steiner, who recorded the original session there twenty years ago. This 27-track CD set, with a total of more than 86 minutes of music, includes 40 minutes of score being released for the first time.
This special release of Silverado includes notes by the composer and artwork by Bob Peak. It will be available for sale starting December 13, 2005 through Intrada Records.