The Complete Soundtrack Unedited, Remastered and Conducted by Bruce Broughton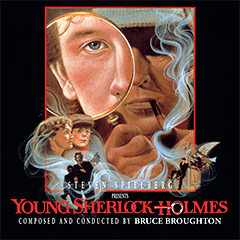 This Intrada release of Young Sherlock Holmes is worthy of the most discerning of collectors, who will not only appreciate the stunning sound quality, but the original tracks in their full length, with Bruce Broughton conducting the Sinfonia of London. Thanks to the collective courtesy of Paramount Pictures, Geffen Records and UMG, Intrada was granted access to the original 2″ 24-track scoring session masters, from which this 2-CD set has been remastered, and features the entire 90-minute work along with several "extras" that fans of Bruce Broughton and the film itself will enjoy and appreciate.
The set is available for purchase through the Intrada website and select retail outlets while supplies last.