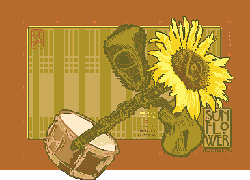 Los Angeles, California – May 31, 2006 – Bruce Broughton will conduct the world premiere of his orchestral piece Mixed Elements in the 20th annual Sunflower Music Festival, in Topeka, Kansas.
The concert will take place on June 17th. Broughton is also conducting Quiet City, by Aaron Copland; A Midsummer Night's Dream, by Felix Mendelssohn; and Samuel Barber's Violin Concerto, Op. 14, with soloist Brian Lewis.
Founded in 1987 to present concerts of the highest artistic caliber, the Sunflower Festival is a non-profit organization co-founded by Russell Patterson (Festival Director Emeritus) and Charles Stegeman (Concertmaster and Artistic Director). Each year, during a two-week period in June, nationally-renowned musicians present concerts of orchestral works, concerti, and chamber music in various ensemble sizes.
The Sunflower Music Festival is made available to the entire community through the generosity of corporate sponsors, individual donors and Washburn University, which hosts this auspicious festival. The concerts are free and all ages are welcome.
Please visit www.sunflowermusicfestival.org for more information.