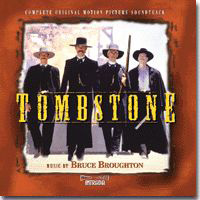 Oakland, California – May 2006 – Bruce Broughton's score for Tombstone (1993), starring Kurt Russell and Val Kilmer, is being re-released in a special 2-CD edition by Intrada Records.
The story behind Tombstone is a famous one: Wyatt Earp (Kurt Russell), after cleaning up the wild Dodge City, decides to move to Tombstone to get rich and live in obscurity. There he meets his brothers and old friend Doc Holliday (Val Kilmer). But there's no rest to be had in the old west, as a band of outlaws, "The Cowboys," are maliciously performing random acts of violence. The confrontation between The Cowboys, Holliday and the Earps is inevitable, leading to the famous shoot-out at the OK Corral.
Composer Bruce Broughton describes his approach: "The music to Tombstone is not particularly "western," in that the orchestration depends not at all on the typical western instruments such as the guitar and harmonica. It relies, in fact, on instruments of ethnic color like the Hungarian cimbalom, the Irish tin whistle and bhodran, and the French contrabass sarrusophone. The brass section includes, along with tenor and bass trombones, the more massive contrabass trombone. Much of this score reminds me of what I once heard Bernard Herrmann tell a studio orchestra – 'The highest note here is the middle C.'" This powerful dramatic work is performed in stunning detail by the Sinfonia of London.
For this special 2-CD release of Tombstone, INTRADA presents the complete score on disc one, digitally remastered and including Jerry Goldsmith's music for the Cinergi logo, which was composed to debut with Tombstone's theatrical release and was conducted by Broughton at the Tombstone sessions. Disc 2 includes – as a bonus – alternate cues and extended source cues heard in the film.
Please visit the INTRADA website for more details or to purchase.