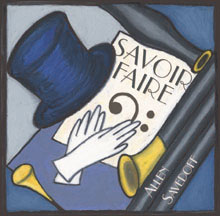 Los Angeles – September, 2004 – Bruce Broughton's "Bounce" is now available on Allen Savedoff's new album SavoirFaire.
SavoirFaire is a collection of classical music for bassoon and contrabassoon, featuring both instruments in various unusual musical settings. "Bounce" features bassoon, double string quartet and bass. The piece is conducted by the composer.
"Bounce" is so named because that's what the piece does. Over a bouncing background of pizzicato strings, the bassoon begins playing its own self-confident line. In the process of the piece, the "bounces" hop, slide, and jump from one quartet to the other, as well as from player to player. As the piece progresses, the soloist and the accompanying strings bounce more and more together until the final bounce, a chord that springs up but never lands.
SavoirFaire includes pieces by composers such as Maurice Ravel, Claude Debussy, Sergei Prokofiev and more.
To order your copy of SavoirFaire, please go to: Capstone Records. The CD is also available through http://www.savedoff.com/SavoirFaire.html.