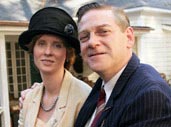 Los Angeles, California – March 19, 2005 –Bruce Broughton scores Warm Springs for director Joseph Sargent.
Warm Springs is the emotional drama of Franklin Delano Roosevelt during the time he was diagnosed with polio in the early 20s. The film stars Kenneth Branagh as FDR and Cynthia Nixon as Eleanor Roosevelt. The cast also includes Kathy Bates and Jane Alexander. Directed by Emmy Award winner Joseph Sargent ("Something the Lord Made"), Warm Springs is both touching and inspiring.
Bruce Broughton's score flawlessly enhances the emotional fabric of this film. His beautiful score gently helps create the atmosphere surrounding a man coping with a crippling disease. The score was described as one that preserves the "Broughton tradition" which his fans have admired and enjoyed for years.
Warm Springs premieres on HBO April 30, at 8pm.