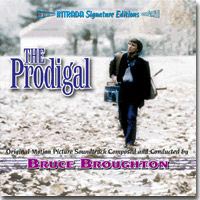 Oakland, California – March 17, 2005 –Bruce Broughton's film score for James F. Collier's family drama "The Prodigal" (1983), starring John Hammond, Hope Lange, John Cullum, Morgan Brittany and Ian Bannen, is now available in a limited edition release by Intrada Records. Being his first film score, this is a real treat for Bruce Broughton fans.
The film is a story of a contemporary family, their broken relationships and conflicting goals.
The soundtrack of this feature film debut, which precedes both Silverado and Young Sherlock Holmes, contains more than fifty minutes of original music, including the score, and eight additional bonus tracks of original source cues, songs and demos used in the film, all of them composed, conducted and/or performed by the composer.
A special signature edition of 1000 CDs was released and is available through Intrada Records. For more information or to purchase the CD please visit Intrada Records.