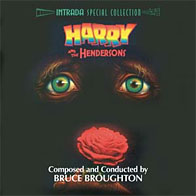 The original soundtrack of the charming 1987 "Bigfoot" comedy, starring John Lithgow, Melinda Dillon, and Don Ameche, is now available for purchase in a special, limited-edition release that features Bruce Broughton conducting one of his biggest scores for a large orchestra (which is only fitting, given the size of the Henderson's house guest).
Action, warmth, humor, and suspense are all richly portrayed in a rousing score that culminates in the gentle and melodic "Goodbyes." Also included is "Love Lives On," a song written by Bruce Broughton and Barry Mann, and sung by Joe Cocker; as well as Broughton's original but unused end-credits.
Mastered from original session elements, and featuring all the score tracks from the original MCA label LP, along with 40 additional minutes of previously unreleased music, this is definitely one for the collection–paricularly as there are only 3000 copies available.
For more details, to hear audio samples from the CD, or to purchase, please visit the Screen Archives website.