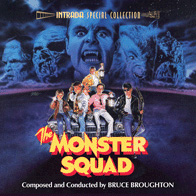 Composer Bruce Broughton goes all out on this original soundtrack of the Fred Dekker homage to classic horror films. Featuring full orchestra—conducted by Broughton—a big symphonic sound fully revives the monsters of films past (Dracula, Frankenstein, the Mummy, et. al). Thunderous action sequences underscore the story's dramatic edge, while a chorus melodically weaves in the tender moments that epitomize the genre.
This long-awaited CD is limited to 3000 copies and is thanks in no small part to the enduring efforts of Paramount Pictures, Intrada, Fred Dekker, and numerous others, and the result is a sensational sound forged from the original stereo elements.
THE MONSTER SQUAD
Intrada Special Collection Volume 50
Date: 1987
Tracks: 22
Time: 57:22
For more details, to hear audio samples from the CD, or to purchase, please visit the INTRADA website.