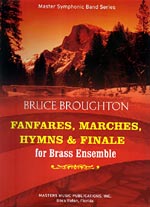 Los Angeles – January 6, 2005 – Masters Music Publications, Inc., has just announced publication of Bruce Broughton's Fanfares, Marches, Hymns & Finale, a suite for brass and percussion.
The work was commissioned by The Bay Brass, which has recorded the piece for an upcoming CD.
Masters Music is also the publisher of Broughton's Concerto for Tuba, which is now available in an orchestral version, along with the original setting for orchestral winds.